The Royal Oak Inn
The Royal Oak is open again after seven years.
The pub was purchased by a consortium of villagers in the summer of 2012. The subsequent rebuild is now complete and the pub re-opened on Saturday 5th September 2015.
An option to purchase was agreed by James and Emma Bell in 2012. They were seeking permission to change it to a private house.
When planning permission for change of use was refused the Bells declined to follow through with their purchase.
Read about the campaign to return The Royal Oak to its former glory.



History of the Royal Oak Inn by Ralph Venables
Swallowcliffe's Royal Oak Inn was established in 1852. Already old, the building had hithero served as a tannery, and, within living memory, the inn was still referred to as the tanyard by local residents.
The Royal Oak is constructed of Tisbury stone, the older half having stone mullion windows and a steep-pitch thatched roof. Of the numerous inns bearing this historic name, there can only be few that have gone through less change in outward appearance than our own pub.
Inside the pub/restaurant is one long bar (two small rooms in years gone by) with a very fine open fireplace at the eastern end and a considerable quantity of original oak beams. Local blacksmith Paul Alford has also contributed to the pub, with his arrays of impressive iron work. Another room was converted into a non-smoking restaurant where excellent lunches and dinners are served for those customers who prefer not to eat in the public bar.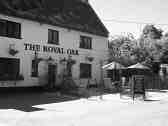 The longest serving landlord was the late George Hansford, who took over duties as publican in 1823 and carried on until his retirement nearly forty years later. Mr Hansford died in 1865. In his era, the interior of the inn was seemingly unaltered from the day when Thomas Wright decided to close down the tannery and turn his premises into an ale house. Eight years later, the inn became the property of Charles Godwin, a brewer living at Shrewton. He paid Mr Wright the sum of £203.
It remained in the Godwin family for 39 years before being acquired by another brewer, Henry Styring, of Tisbury, for £550 - and in 1933 it was bought by Eldridge Pope, of Dorchester. Late in 2002 the pub changed hands again for a somewhat larger sum this time, passing to a specialist pub management company InnTown Property.